This past month was amazing. I cannot believe that the month is already!! The year is just flying by, and now that September is over I am even impressed that I was able to read so many books this month, despite the fact that I had to restart working. I didn't think I would get in as much reading time as I did over the summer but I did and it feels
AWESOME
.
I can honestly say that I impressed myself. I read 13 books this month... well actually it was 12 and 1really short novella. But all in all I can say that this month was
phenomenal, epic even
.
This month was a Jennifer L. Armentrout month, I hadn't planned it to be, it wasn't intentional by any means but I do not regret reading many of her books this month. Honestly, I just continued from where the "Lux" series ended and went on to reading more of her work.
So let's talk about what I read this month: Upon coming back from my great 3 week vacation on the island of Haiti I felt that I needed to finish up with all the books in the "Lux" series. I had already read all the 5 main books in the story and I read "Obsession" So it was only right that I picked up the only novella that went with the books.
"Shadows"
was the last book for me to read in order to say that I really read all the books that were related to the Lux series. I really had to find out how Dawson and Bethany met because they played a big role in the last couple of books. I really enjoyed their story and loved them, not as much as I loved Daemon and Katy but I still love them. I would love to read about Dee Archer, maybe something where they are a little older and it can be adult story about what happened after the whole debacle and ending of the previous books. I'm just saying that I would love to read about them. I could also go for an adult version of Daemon and Katy, but that's another story.
I was really torn up after finishing the "Lux Series." I had spent so much time with the characters in those book that it was like my life had officially come to an end as well as my summer. It was the end of an era for those books but I didn't have my fix of this lovely author. Many have been telling me for months (via booktube) about this author, I had put off reading her books for so long but now I finally see what they meant. Armentrout's writing is impeccable and so easy to follow. You (the reader) become so attached the characters that you end up crying when you see a great series end. I had to rectify this, I needed more and more of Armentrout's books.
I decided to pick up all the books in the "
Wait for You
" series. Two of the books have been on my kindle for over a year and I never got around to reading them, but since I was having a moment I thought this was the opportune time to read them so I binge read every book. I mean. I really went through those books and I went through then quickly and loved every minute of it. They weren't really long, but I found myself really falling in love with all the characters in the books. I just couldn't get enough of them. Each story touched my heart and every book felt more and more real to me. From Cam and Avery, to Jase and Teresa I just had to have more and more of this awesome writing.
I didn't read "
Stay with Me
" until almost the end of the month, I had to wait till the 24th as that was the release date, so in the mean time I went back on to my trusty "google" and went to
Armentrout's
website and looked for other books by her that I haven't read. . Again, I wasn't planning on making this her month but I figured since I started why stop there? I had already purchased the "
Covenant Series"
but I didn't want to read that yet. I wanted to see what her other books were like.
Since September had unintentionally become dedicated to this author I stayed with it and found her "adult" series and I read those as well.
The "
Gamble Brothers
" series was a delicious read. Going into it I wasn't ready for the content. Not that I was opposed to it, it was just that I wasn't expecting all the passion and sex that came along with the plot of the stories. The characters is this series were easy to like and love even though many you didn't like at first (Chad.) I didn't find the sex in the stories to be too over the top. I mean, I have read Zane's books so these were tame in comparison to the erotica that I read from Zane, but I believe I gave all of these books 5 stars on
goodreads
, and I suggest them for all my 18+ readers. In addition to the very (I need to fan myself) sexy times in the stories that make you blush while reading, the plot definitely doesn't let you down.
I began to wonder could Armentrout do anything wrong? I really wondered if this woman could ever let me down when it came to her books . I know there is another series (Covenant) that I have to read but I am saving those for another month especially since no new "Wait for you" books are coming out until next year (I already pre-ordered the next book in the series.) After finishing up the "Gamble Brothers" series I had to see what else Ms. Armentrout had written so I picked up "
Frigid
." This book was so cute, I mean adorable (new adult contemporary romance) because the scenario of the story was so believable. Kyler and Sydney were so lovable it hurt. Their love for one another was apparent to everyone but them and when they finally got together it was about time. This book also included sex, but I wasn't complaining. It wasn't like every couple of pages the characters where jumping each other. The moments where they did have sex were planned correctly.
SERIOUSLY,
I just couldn't get enough of this author. She was definitely one of my favorites.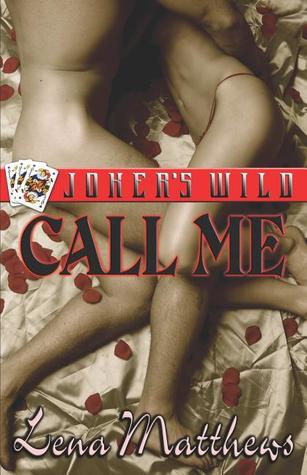 Unfortunately there weren't any more books for me to read from her (like I said I'm saving the
Covenant series
for another month) and this was before "Stay with Me" was released so I went to my trusty old "Amazon" and found authors that were similar to my now beloved "Jennifer." I came across an author named "
Lena Matthew
" and I found a series that I thought I could read. The books were fairly short so I figured why not try something new. While these books do not compare to the grand level that is the "Gamble Brothers" the "
Jokers Wild
" series wasn't that bad. Lena Matthews did a good job with the stories and I did end up liking all three books. I believe that I rated each of these books 4 stars on goodreads.
And then "
Stay with Me
" was released and it was like the clouds opened up and I saw heaven. I was so excited to read this book. I had to have more of the characters from the previous two books. I was so anxious to read Calla's story. I barely slept reading this book, and I was NOT disappointed (I'll do a review of this book later this week.)
I read so many great books this month and I think that October (my birthday) month will also be great.
In other great news I am 2 books away from my reading goal and I am so excited. Last year I tried to accomplish the same goal but it was an
EPIC Fail
. I may have to go up on my challenge next year but I am so proud of myself!!!
Enough of me, what good books did you guys read this month?
Until next time