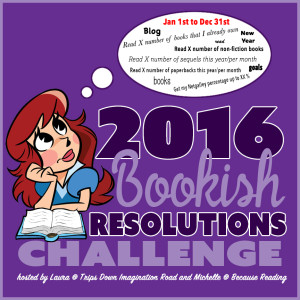 I wasn't planning on blogging at all. I was actually thinking of getting rid of both of the blogs that I have and just keeping my writing journal, but then I thought about it some more and I realize that I do want to keep it. It's like a long time friend that I check in on every once in a while. I know that I make these promises to come back and write and tell about the books that I am reading. While I may have every intention to doing so, I get lazy. Let me be honest, I am genuinely a procrastinator. I wait till the last minute for almost anything because I believe that I work best under extreme pressure. This might be true for some things, but when it comes to things like this (blogging) and other aspects of my life I think I need to let go of this procrastinator attitude and make moves.
Moving right along, let me give you a little feedback about last years reading goal. Lets just say that last year was a terrible reading year for me. I was in the major slumps. I hardly read anywhere near the 65 I wanted to read or desired to read. I really wondered what happened to my drive to read. There were some phenomenal books released last year and I didn't get to as many as I would have liked. This isn't to say that the books I read weren't good, by no means am I saying that, but the books that I wanted to read... well they are currently sitting on my shelf collecting dust.
Which brings me to this post. I realize that last year this time I had made some "bookish resolutions," while it would be best for me to stay away from making promises I am what my mother would call a "sans hont" (shameless or without shame.) I am going to make some 2016 resolutions that I am going to try really, really hard to stick to. I mean I am going to give it my all and really hope to make it a continuing part of my life. Anyway, while looking up images for this blog post I fell upon an actual "bookish resolutions" challenge for this year and I decided I would participate. I stumbled upon
cindysloveofbooks
page and I read about the challenge and I fell in love with the ideas, basically with this challenge :
(
by the way I copied this from her page
)
You can sign up anytime between December 1st to March 1st, the challenge starts January 1st and ends December 31st. The 201
6 Bookish Resolutions Challenge is about setting New Years Resolutions for books and book blogging. You can sign up via blog post, Facebook, Twitter or Goodreads!
Rules:
1.
This is a year long Challenge it starts January 1st 2016 and ends December 31, 2016.
2.
You have 3 Main goals to choose from; Blogging Goal, Reading Goal or Personal Goal.
3.
You must pick at least 2 Main goals and each main goal must have at least 1 sub-goals – there's no upper limit (except Blogging Goals you need a minimum of 5) as you would like
4.
Create a sign up post and add it to the Linky on this post (sign up before March 1st)
5.
On the 30th of each month (and the 29th for February) create an update post about your goals and add the post to the Linky that will be on Michelle's blog
6.
This is a year long challenge once you do a sign up post you can add or take away goals as you would like BUT on Jan 1st you will no longer be able change the list.
7.
We are also having 3 Twitter Parties.
8.
Use the Hashtag #Bookishresloutions to update us on how you are doing throughout the year
So here goes nothing!!
Blogging Goals
Update blog on a bi-weekly basis!
Read books need reviews! (Try to review each book I read, key word is TRY)
Read and comment on more blogs ( I mean I do have the bloglovin app)
Get new template for my blog... I mean seriously bloggers templates are kind of dry!
Read more books this year, there are over 200 books on my TBR shelf and lets not talk about the number of unread books on my kindle, and my ipad.. UGH
Reading Goals:
Read at least 2 books a month
Read last 5 e-books that I purchased on my kindle
Only 3 one-click buys a month
Personal Goals:
Eat healthier, stop eating out make dinner at home
Work out at least 3x a week
These seem like reasonable goals. I don't thin I am going to over exert myself when trying to complete these. I really want to work on my blogging experience. I remember when I started it, it was a great way to release anger and to be more vocal in the online community. I do miss blogging from time to time so this is my first attempt at keeping my promise.
2016 here I am.. only 26 days late...